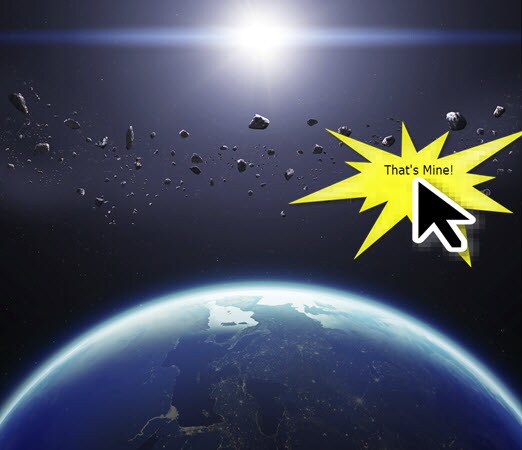 As the Earth's mineral resources are rapidly diminishing, some scientists are considering an intriguing solution—mining asteroids, which are thought to contain huge supplies of gold, platinum, iron ore, and other minerals. A team of NASA researchers are already working on it, as we reported in Space, the Final Frontier…for Mining?
Skeptics continue to point out the impracticalities and expense of transporting mining equipment and products to and from deep space, yet the idea persists. This May, the U.S. Congress passed the Space Resource Exploration and Utilization Act of 2015, a commercial space bill that defines space and asteroid resources as well as property rights, stating, "Any asteroid resources obtained in outer space are the property of the entity that obtained such resources, which shall be entitled to all property rights thereto, consistent with applicable provisions of Federal law and existing international obligations."
Despite the recent Space Exploration bill, setting legal guidelines for asteroid mining will be a complicated matter. An article on Wired.com, Space Law: Is Asteroid Mining Legal? points out that by some interpretations, the 1967 Outer Space Law bans property rights in space. Another article on Slate.com compares the current situation to the disputes that arose in claiming the Arctic, stating:
"Just consider the Arctic. Impenetrable ice was once the foil for those who dreamed of a Northwest Passage, but global warming has made the oil- and natural-gas-rich Arctic seabed accessible for the first time, and there has been a rush to lay claims to territory. The United States and Canada have been making careful geological measurements in order to determine territorial boundaries. Russia has pursued a different path: In 2007, the country used a submersible to plant its flag on the seabed at the North Pole. It's an example of how contested things can get even when there is a system of rules in place…"
Re-Using Spacecraft?
Another obstacle to asteroid mining is the exorbitant cost of space flight. Currently, rockets can withstand only one trip to outer space and are destroyed upon reentry. Companies are working on developing reusable rockets that can return from a trip to outer space in-tact, to be flown again and again as airplanes are now. These rockets are designed to enable commercial space flight and to carry supplies to space stations, but the concept also applies to asteroid mining because such rockets, if successful, could be used to ferry minerals and mining equipment back to earth. But it may be a while before such a plan comes to fruition.
Mining.com reports that the commercial space industry just had its third major failure when an unmanned SpaceX rocket carrying cargo to the International Space Station exploded two minutes after take-off. The prior two incidences involved the explosion of an Orbital Antares rocket carrying a satellite owned by Planetary Resources, a U.S.-based company established to mine asteroids, as well as a Russian Progress 59 which spun out of control after reaching orbit.
With such complicated legal and technological issues to work out, it will be a long time before traditional mining companies face competition from companies mining asteroids. In the meantime, some miners are exploring ways to stretch their mineral sources through new reprocessing technologies to extract valuable metals from waste (read From Tailings to Treasure? A New Mother Lode). Other more immediate issues facing the industry include environmental concerns (read Mining and the Environment: What Happens When a Mine Closes?);  and the need for sophisticated communication and information technologies to run mine operations (Read LIMS Locates Diamonds in the Rough).