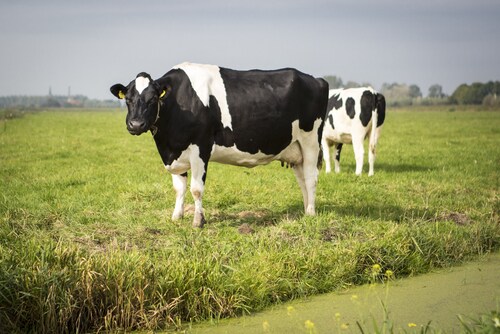 Cow's milk contains multiple bioactive proteins, and these proteins offer a wide range of health benefits to a variety of body systems including the cardiovascular, digestive, immune and nervous systems.1,2 To date, little is known about the native milk peptidome. Using advanced mass spectrometry proteomic techniques, researchers have now begun to characterize the protein composition of cow's milk. In their recent publication, Baum et al. seek to take these techniques one step further by mapping the cow's milk peptidome.3
Because the peptidome contains structures smaller than 5 kDa, the research team utilized (either directly or following fractionation) a matrix-assisted laser desorption/ionization–time-of-flight (MALDI-TOF) mass spectrometer. The researchers pooled raw milk samples from 30 animals. They removed the upper fat layer using a centrifuge and subjected the remaining fat layer to the standard Zip-Tip-C18 protocol in preparation for the MALDI-TOF analysis.
Baum et al. fractionated peptides either by reversed-phase high-performance liquid chromatography (RP-HPLC) or by OFFGEL fractionation (Agilent). They determined that both methods showed a satisfactory overlap of peptides, with 174 peptides detected following the RP-HPLC and 181 peptides detected following the OFFGEL fractionation. These numbers are a big improvement over the direct MALDI-TOF analysis, which yielded just 57 peptides; however, 15 peptides not otherwise detected in the prefractionated samples were actually detected by the direct MALDI-TOF approach.
For the MALDI-TOF/TOF analysis, the research team used a 4700 proteomic analyzer (Applied Biosystems). They also performed nano-ultra-performance liquid chromatography (UPLC)–nano-electrospray ionization (ESI) mass spectrometry on a nanoACQUITY UPLC system (Waters) coupled to an LTQ Orbitrap XL hybrid ion trap-Orbitrap mass spectrometer (Thermo Scientific). The team remarked that the ESI–LTQ Orbitrap XL mass spectrometer was more accurate in matching peptides with proteins; hαS1-casein, followed by β-casein, and αS2-casein were among the most common. They also found that κ-casein and whey proteins played only a minor role as peptide precursors.
After performing database searches, the researchers identified 22 peptides involved with angiotensin-converting-enzyme (ACE) inhibitory, immunomodulating or antimicrobial activity. Although the physiological activity for the remainder of the peptides has not been discovered to date, this description of the milk peptidome as determined by Baum et al. may help to identify novel bioactive peptides.
References
1. Hartmann, R., and Meisel, H. (2007) "Food-derived peptides with biological activity: From research to food applications," Current Opinions Biotechnology, 18(2) (pp. 163–9).
2. Nagpal, R., et al. (2011) "Bioactive peptides derived from milk proteins and their health beneficial potentials: An update," Food Function, 2 (pp. 18–27).
3. Baum, F., et al. (2013, December) "Analysis of the Endogenous Peptide Profile of Milk: Identification of 248 Mainly Casein-Derived Peptides," Journal of Proteome Research, 12 (pp. 5447–62), doi: 10.1021/pr4003273.