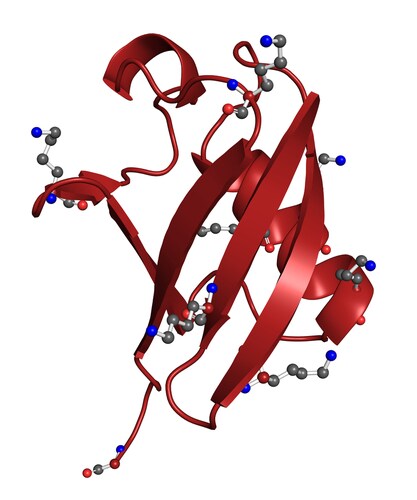 A previous blog post offered a complete workflow for identifying and quantifying new N-termini using terminal amino isotopic labeling of substrates (TAILS) with TMT10-plex (tandem mass tagged) reagents.1 Recently, the Klein et al. (2015) research team offered enhanced data and identified a novel substrate and cleavage site that impacts ubiquitination, which plays a role in inflammatory response.2 While researchers knew that this modification relied on heme-oxidized IRP2 ubiquitin ligase (HOIL1)-interacting protein (HOIP) activity and the formation of a linear ubiquitin chain assembly complex (LUBAC), its regulation remained unclear.
Toward this end, the team evaluated HOIL1 as a mucosa-associated lymphoid tissue lymphoma translocation protein 1 (MALT1) substrate with a potential regulatory function. To do this, they relied on human cells derived from the only known living person with a genetic MALT1 deficiency as well as controls drawn from her relatives. This resource offered researchers the unique opportunity to detect new substrates in an intact human system, mediating the previous intractability of experimental efforts.
Klein et al. applied isobaric 10plex TMT labeling followed by trypsin digestion and a single analytic run through an Orbitrap Fusion Tribrid mass spectrometer (Thermo Scientific) as well as preTAILS shotgun analysis. They relied on Proteome Discoverer software revision 2.0 (Thermo Scientific) for data processing. They were able to identify 7,498 unique acetylated or TMT-labeled N-terminal peptides in 3,772 proteins, a significant improvement from the earlier study. Ultimately, they also confirmed HOIL1 as a MALT1 substrate and located its specific, non-redundant cleavage site: 162LQPR↓G166.
The team indicates that this discovery elucidates a novel role for MALT1 in nuclear factor-kappa B (NF-κB) signaling. In addition to removing negative regulators in the pathway (negative feedback inhibition), Klein et al. reveal that MALT1 also acts as a feedforward inducer. In this role, it cleaves HOIL1 at a single, specific site, resulting in LUBAC disruption, downregulated linear ubiquitination at the B-cell receptor, and reduced NF-κB activity. In the patient, MALT1 deficiency and the subsequent failure to cleave HOIL1 upregulated linear ubiquitination and, ultimately, chronic inflammatory response due to unrestricted B-cell activation. The authors indicate that this combination of positive and negative regulation should inform the therapeutic application of MALT1 inhibitors for autoimmune disorders.
Overall, the authors used TAILS to identify MALT1 as "a pleiotropic controller of canonical NF-κB activation" with HOIL1 as a novel substrate. They present three separate jobs for MALT1:
Linking of the CBM signalosome with B-cells receptors, which co-localize with linear ubiquitin complexes

Direct cleavage to remove negative regulators (RelB, CYLD and A20) to optimize NF-κB activation

Proteolysis to invoke negative-feedback regulation of LUBAC function, reducing linear ubiquitination to inhibit ongoing or secondary NF-κB activation
The enhanced data presented here offers unique insight into the consequences of genetic MALT1 deficiency. Molecular characterization of rare immunodeficiencies not only impact current understanding of immune system function but also inform the development of novel treatments.
References
1. Blank, M.A., et al. (2014) "TMT10 TAILS workflow for identification and quantitation of the N-terminome by terminal amino isotope labeling of substrates," Thermo Scientific poster note PN-64116-EN-0614S.
2. Klein, T. et al. (2015) "The paracaspase MALT1 cleaves HOIL1 reducing linear ubiquitination by LUBAC to dampen lymphocyte NF-κB signalling," Nature Communications, 6 (8777), doi:10.1038/ncomms9777
Post Author: Melissa J. Mayer. Melissa is a freelance writer who specializes in science journalism. She possesses passion for and experience in the fields of proteomics, cellular/molecular biology, microbiology, biochemistry, and immunology. Melissa is also bilingual (Spanish) and holds a teaching certificate with a biology endorsement.