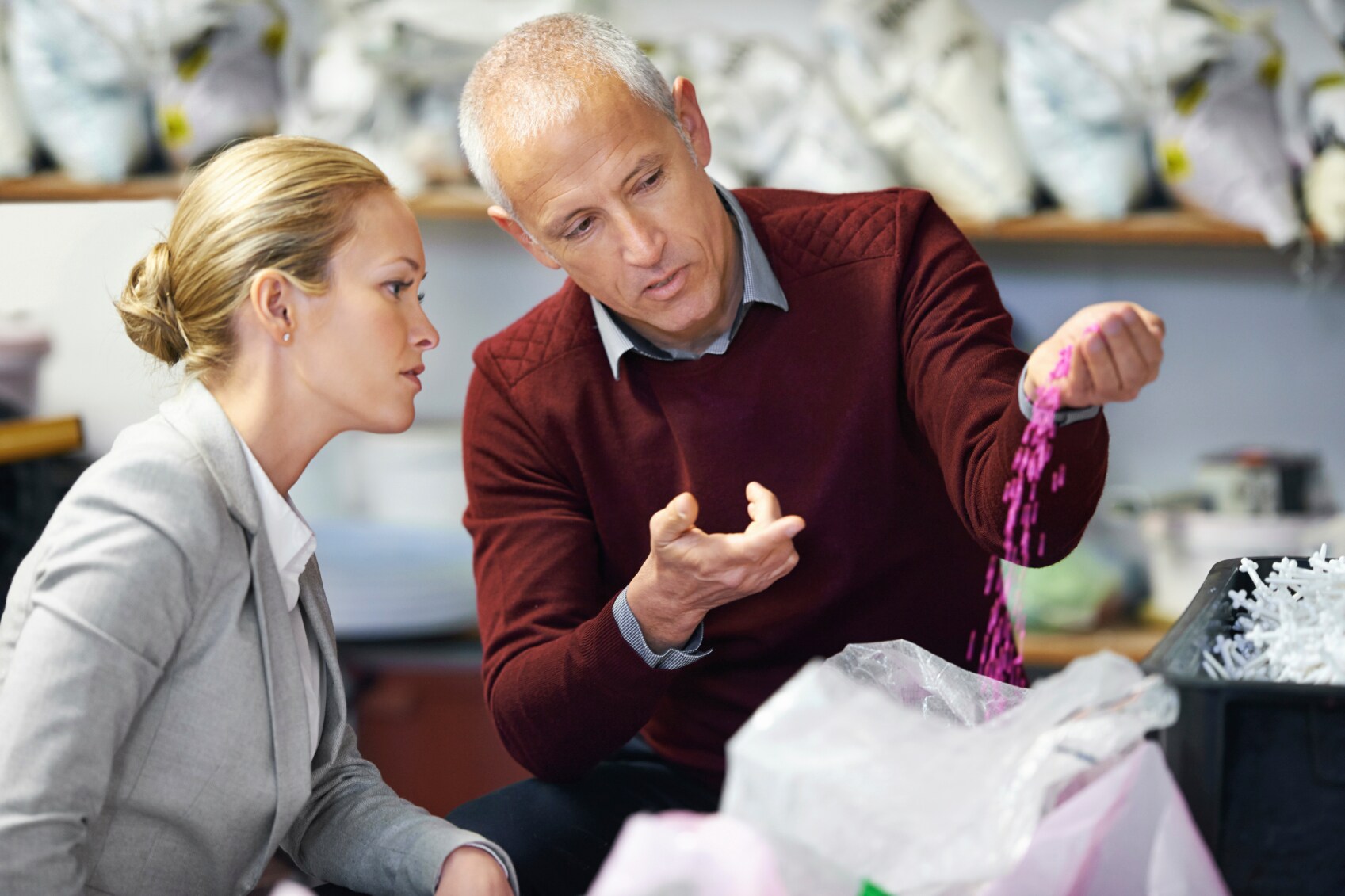 Polyethylene is the most produced plastic in the world, and is considered strong, safe, and versatile, at least according to PlasticsEurope, the Association of Plastics Manufacturers. The PlasticsEurope website describes polyethylene as:
"… a good insulator, it resists caustic materials, it is almost unbreakable and is environment-friendly. Polyethylene is reliable under every circumstance and it can easily deal with tropical temperatures as well as the frosty cold of the polar circle. This tough material is hard wearing. Yet it is remarkably light and it can be processed into all kind of articles without any problem."
It can however, present some challenges.
If the ratio of polyethylene compared to other materials in a product is incorrect, problems can occur. For example, when plastic fasteners were cracking over time, FT-IR analysis was done to discover the problem. Examination of the expanded hydrocarbon stretching region of the failed and control parts showed that the ratio of the polyethylene to polypropylene in the failed part was significantly higher than in the control part. The higher relative amount of polyethylene created a part that was not as stiff as intended, making it more prone to deformation and cracking under long-term stress.
In a similar situation, a section of plastic tubing used in a refrigerator had leaked while in use, so it was examined and analyzed. This type of tubing is generally extruded from a grade of low density polyethylene (LDPE). The core remote to the cracking tubing material was analyzed using FT-IR with a diamond ATR (Attenuated Total Reflectance) crystal. It was discovered that the molecular degradation caused by oxidation (through contact with chlorinated municipal water) resulted in a marked reduction in mechanical integrity of the tubing material, and together with the nominal internal pressure, produced cracking within the tubing.
Chemically reinforced polyethylene is used in many industrial applications. Fluorination of the polyethylene surface is one of the processes for improving its performance. However, to obtain the specified material, the fluorination level must be monitored to ensure correct measurements. An FT-IR spectrometer is often used in this case.
Ensuring there is a low metal content within the plastic walls of High Density Polyethylene (HDPE) storage bottles is tremendously important. Due to the nature of plastic, many contaminants found within plastic resins can leach into solutions in direct contact and can contaminate. Therefore low metal content is very important. Highly sensitive reagent solutions stored in HDPE bottles are especially susceptible due to the length of time the contents are in contact with the bottle. Part of the quality offering with these types of containers is preventing contaminants from altering the contents, which would compromise the integrity of any assay that uses reagents stored in them. To determine the metal content of bottles, portions of the bottle wall should be analyzed using inductively coupled plasma mass spectrometry (ICP-MS) to determine contaminant content.
In the recycling world, separating different recyclable plastics from each other so that they are processed correctly requires a great deal of effort. Failing to correctly identify and sort plastic scrap can not only cause environmental issues, it can cause major equipment damage. The various plastic grades have different melting temperatures which can vary widely; feeding the wrong plastic grade into the extrusion furnace can result in furnace damage, production shut down, and operational losses in the millions of dollars. Polyethylene items need to be recycled not only from other plastics, but the different types (densities) of polyethylene need to be separated as well. Unfortunately, this is often difficult to do without complex chemical analysis. However, Fourier transform near-infrared spectroscopy (FT-NIR) can identify and analyze the various polyethylenes simply and quickly.
There's no doubt that polyethylene is an important and valuable material. It can be found in everything from packaging films, to plumbing pipes, to housewares and grocery bags. But for manufacturers who are using polyethylene in their finished products, it's a good idea to make sure their quality control labs are utilizing Fourier transform near-infrared spectroscopy and/or ICP-MS methods.
Different characteristics such as stiffness or elasticity can be imparted to the polyethylene during production, depending on the density of the material and its liquidity in melted form. Pressure applied during production can also have an effect on the density or liquidity. Producing polyethylene at low pressure forms straight, robust and tightly packed branches. The result is dense polyethylene with a firm and stiff structure. Manufacturing polyethylene at high pressure causes the particles to form a crisscross of branches and side branches, resulting in a lighter, more elastic material.
To summarize, since polyethylene is a challenging material, it is best to utilize FT-IR, FT-NIR , and ICP-MS methods for identifying and measuring the density of the material, the liquidity of the material, the pressure used, the alloyed materials, the amount of alloyed material, the metal content, and the specifications of the finished products – among other things – in order to produce quality material that meets customer requirements.