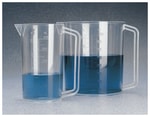 Ensure resistance against acids, bases, aliphatic alcohols, aldehydes and esters with Thermo Scientific™ Nalgene™ PMP Graduated Beakers.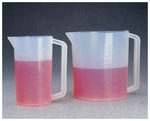 Conduct high-purity applications that use strong oxidizing agents, acids, hydrocarbons and ketones with Thermo Scientific™ Nalgene™ PFA Graduated Beakers with Handles.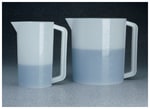 Safely handle acids, alkalis and hot solutions with these beakers, featuring an extra-heavy wall and sturdy rectangular handle for reliable support and dispensing control.