Thermo Fisher Scientific continues to provide the gold standard of testing with our evolved PCR-based TaqPath COVID-19 2.0 tests, which were developed to help laboratories quickly diagnose COVID-19 caused by SARS-CoV- 2 infection.
The TaqPath COVID-19 Fast PCR Combo Kit 2.0 features an innovative, multi-target assay design to compensate for current and future emerging SARS-CoV-2 mutations. Our advanced PCR-based test enables fast, trusted COVID-19 test results from raw saliva, making it an ideal choice for high-frequency testing.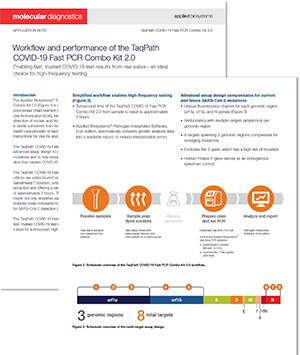 Features of the TaqPath COVID-19 Fast PCR 2.0 Combo Kit 2.0 include:
Compatible with raw saliva (no preservatives) for symptomatic individuals
Utilizes human sample confirmation RNase P gene as an internal control
Go from sample to results in ~2 hours (bypassing RNA extraction)
Fill out the form and read the poster and application note to learn more.