Your trusted partner for reproductive health solutions
Empowering you with the innovative technologies you need is our passion—we know that the scientific advances you make literally help build healthier families. From carrier screening to preimplantation genetic testing and prenatal and postnatal applications, our comprehensive portfolio of reproductive health solutions can help you achieve your goals and positively impact families around the world. We strive to be your trusted partner on this inspiring journey toward better reproductive health.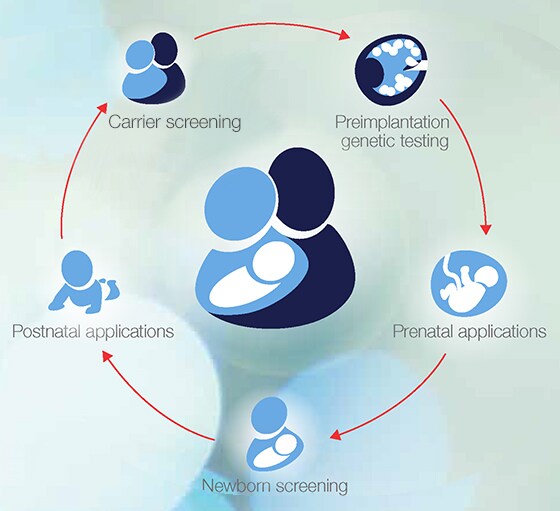 Figure 1. The reproductive health cycle. This can be viewed as a cycle because postnatal results and decisions can incluence pre-conception decisions.

Choose from our comprehensive portfolio of reproductive health solutions
A microarray-based tool for the detection of sequence and structural variation for preconception or expanded carrier screening across a wide range of ethnicities.
Microarrays are an ideal platform for copy number variation (CNV) analysis and molecular cytogenetic research.
Solutions that enable rapid and affordable detection of aneuploidies across all 24 chromosomes (22 autosomes and the X and Y chromosomes).
Chromosomal microarray analysis (CMA) successfully detects submicroscopic CNVs.
Come visit us at these conferences:
| 2019 Event | Date | Satellite events | Booth | Location | Poster |
| --- | --- | --- | --- | --- | --- |
| ACMG | April 2—5 | Product theater User group meeting | 429 | Seattle, WA, USA | Posters: 1. Exon-Level Detection of Human Copy Number Variation Using High Density DNA Oligonucleotide Arrays. Poster #: 775. 2. Characterization of Exon Level Genomic Copy Number Changes in 1855 Normal Individuals. Poster #: 737. |
| PGDIS | April 15—18 | Preconference workshop | 6 | Geneva, Switzerland | To be updated |
| ASPIRE | May 2—5 | Preconference workshop | TBD | Hong Kong, China | To be updated |
| ESHG | June 15—18 | Lunch seminars | TBD | Gothenburg, Sweden | To be updated |
| ESHRE | June 23—26 | Product theaters | TBD | Vienna, Austria | To be updated |
| ASRM | Oct 12—16 | TBD | TBD | Philadelphia, PA, USA | To be updated |
| ASHG | Oct 15—19 | Lunch seminar | TBD | Houston, TX, USA | To be updated |
Publications
Clinical utility of exome sequencing in individuals with large homozygous regions detected by chromosomal microarray analysis. View
Copy number variation and neural pathway analysis of children with autism spectrum disorder from a large Han Chinese population-based cross-sectional study. View
Density matters: comparison of array platforms for detection of copy-number variation and copy-neutral abnormalities. View
Literature