Sample analysis in three simple steps—load, run, and analyze
Using precast agarose gels can simplify the nucleic acid electrophoresis workflow. E-Gel precast gels are self-contained and ready for use, with the agarose and the DNA stain packaged in a disposable cassette. There are no gels to pour, buffers to make, staining or destaining steps to perform, or gel boxes to assemble. Just load your samples and start the run.

E-Gel products
E-Gel precast agarose gels
E-Gel Precast Agarose Gels—precast gels for fast and sensitive resolution of DNA and RNA; available in a variety of percentages and well formats
E-Gel ladders & loading buffer
E-Gel DNA ladders & loading buffer—the room-temperature stable, ready-to-use pre-mixed ladders formulated specifically for maximum performance on E-Gel gels as well standalone sample loading buffer.
E-Gel documentation & analysis
Select the E-Gel system that meets your needs
48–96 DNA samples per gel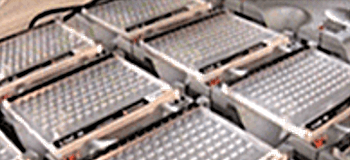 Fully automated, robot-compatible, and ready to put into action, the Invitrogen E-Gel 48 and 96 Systems make your high-throughput screening assignments as easy as plug-and-play.
Featured resource—E-Gel precast gel electrophoresis system
Find additional information about our E-Gel systems, including the precast agarose gel system for DNA and RNA electrophoresis, the Power Snap Electrophoresis System, the systems developed for routine DNA and RNA electrophoresis and for high-throughput electrophoresis, and the E-Gel DNA ladders and starter kits.
Resources and support for E-Gel Agarose DNA Electrophoresis Systems
Have questions about the E-Gel system or new to molecular biology applications? Access literature, selection guides, webinars, and additional educational resources below for more information.
Find our E-Gel selection table that will guide you in choosing the best products for your experiments.
Use the E-Gel precast gel and ladder selection tool with filters for instrument, gel stain, fragment resolution, and more to refine available options.
Browse the support centers by application for technical support and troubleshooting help.
Find tips, troubleshooting help, and resources for your nucleic acid purification & analysis applications.
For Research Use Only. Not for use in diagnostic procedures.