Our techs are here to answer your questions, just email us.
If you like this month's Q&A, check out our Talk Tech archive.
Question
Yes! Part of the maintenance and calibration procedure is to install new 47mm Chiller Filters into the TEOM FDMS unit.
The recommended maintenance interval for replacing the Chiller Filter is to do it when you exchange the TEOM filter. The TEOM filter is done when loading nears 75%, or every 30 days, whichever comes first.

The best practice for chiller filter replacement is to open the chiller ONLY when the switching valve is in the Base Position. This prevents the pump from drawing ambient air through the open chiller and into the system.

How do I confirm which position the switching valve is in?
1. Go to <Instrument Conditions>, <FDMS Module> to view the current valve position. If the valve position is currently not in the "Base" position you can manually switch the valve. Press Back, go to Service>Advanced>Test FDMS Valve.
2. Press Test and the valve will attempt to change position.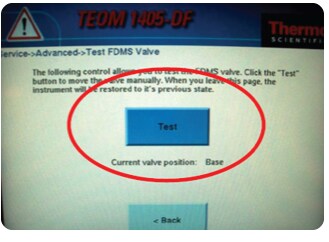 3. Wait for the valve to reach the Base position. Now you can open the chiller.
4. Access the chiller door on the left side of the tower and open the door.
5. Turn the filter holder counterclockwise to remove the filter and filter cassette from the holder.
6. Wipe out the exposed chiller area and check the V seal.

7. Prepare new filters for the chillers. For proper operation, only the 47 mm TX40 filters should be used in the chillers.
8. Place the holder with cassette installed into chiller base and turn the holder clockwise until you hit the stop. Do not over tighten and force the black stops outward, as this will induce a leak.
Don't miss out. Subscribe today.
Talk Tech is published here every month. Receive our monthly Talk Tech answers delivered right to your inbox by subscribing using the button below.
UX DATA-TRKR Retired - Admins, feel free to remove this reference component.