Nunclon Sphera 3D culture system
Thermo Scientific's Nunclon Sphera 3D culture system is designed for spheroid culture (e.g., 3D tumor spheroids) and organoid culture (e.g., brain organoids) with a wide selection of formats, from plates to dishes and flasks.
What are low attachment cell culture plates?
Low attachment cell culture plates, also known as spheroid culture plates, allow virtually no cell attachment to the cultureware, supporting the establishment of 3D spheroids and organoids via cell-to-cell aggregation through naturally secreted extracellular matrices (ECM).
---
Customer successes with Nunclon Sphera 3D cell culture system
I did a side-by-side comparison of the Nunclon Sphera and Corning® Costar® plates. In the Sphera plates, almost all cells aggregated nicely, whereas the Costar® plates, some cells were left out. Further, the spheroids in the Sphera plates created more pronounced protrusions/buds. I interpret this as Sphera plates having less adhesion, allowing the spheroids to change shape more freely. Since plate surface quality is a key parameter, I am using Sphera plates for my experiments.

— Keisuke Ishihara, Postdoctoral Researcher at the Max Planck Institute for Molecular Cell Biology and Genetics
Out of the different low attachment plates I have used to form 3D clusters of stem-cell derived pre-endocrine cells, Nunclon Sphera plates have been by far the best in terms of higher cell aggregation and lower cell death.

— Alberto Bartolom, PhD at Columbia University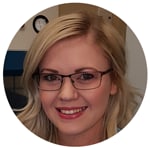 It was much easier to maintain my spheroids in the Nunclon Sphera U-bottom plates than Corning ULA plates, as they were kept for a long time (21 days). The Sphera plates made it easier to administer dosages and sample from the round bottom. Moving forward, I will use the Sphera round-bottom plates for culturing spheroids.

— Carlemi Calitz, PhD at Postdoctoral Research Fellow at Uppsala University
In order to control the size of spheroids, we started using Nunclon Sphera and found out that the plate enabled to fabricate self-organized and size-controlled spheroids using mouse pre-osteoblast cells. We examined gene expression changes in the spheroids compared to the conventional 2D monolayer condition, resulted in up-regulations of osteocyte markers after 2 days of incubation in Nunclon Sphera. We thought that the cell condensation condition achieved in the spheroids triggered the osteocyte differentiation of pre-osteoblast cells. (J. Kim & T. Adachi (2020). J. Biomech. Sci. Eng., 15(3), 20-00227)"

— Dr. Jeonghyun Kim, Biomechanics Laboratory, Institute for Frontier Life and Medical Sciences, Kyoto University
‹
›
---
Benefits of Nunclon Sphera ultra low attachment cell culture plates
Minimal cell adhesion in culture
Nunclon Sphera proprietary surface coating helps prevent protein adsorption to the cultureware surface, helping minimize monolayer cell adhesion to the culture vessel.
Consistent 3D tumor spheroid formation
The reliable cell growth and the ease in controlling spheroid size on the Nunclon Sphera 96-well U-bottom ultra low attachment 3D cell culture plate are important for applications where consistency and reproducibility are valued. 3D tumor spheroids imitate the in vivo development of solid tumors with homogenous growth and, in the cases of sizable tumors, the hypoxic core.
Figure 2. Growth kinetics of HCT 116 colon cancer cells shows early spheroid formation in the Nunclon Sphera 3D cell culture plate, even with low initial seeding density of 100 cells/well.
Applications with Nunclon Sphera ultra low attachment cell culture plates
Neurosphere and brain organoid generation in Nunclon Sphera ultra low attachment plates
Neural stem cells (NSC) naturally secrete an extracellular matrix, allowing them to rapidly aggregate and form neurospheres. With the right 3D cell culture protocol, consistent cell growth of neurospheres leads to further differentiation to multi-cellular structures known as brain organoids with tissue-specific morphology and function.
Embryoid body formation using the Nunclon Sphera 3D culture system
Embryonic stem cells (ESC) and induced pluripotent stem cells (iPSC) form 3D aggregates, known as embryoid bodies, held together by a complex network of adhesion molecules. The paracrine signaling within an embryoid body is crucial to embryogenesis in response to environmental cues that lead to the eventual differentiation of three germ layers.
Figure 7. The differentiation of a human embryoid body to three germ layers on Nunc Lab Tek II Chamber Slides as shown by the expression of ectoderm marker beta-tubulin, endoderm marker alpha fetoprotein (AFP), and mesoderm marker smooth muscle actin (SMA). Counter-stained with DAPI.
Spheroid model system for high-throughput screening (HTS)
The high failure rate of new drug development suggests the need for better 3D cell models in the early stages of the drug development process. 3D cell spheroids and organoids of uniform size, centered in the wells of the Nunclon Sphera 3D cell culture microplates, present an attractive biologically relevant 3D cell model system for drug discovery and disease modeling amenable to high-throughput screening or high-content screening.
Ordering information for Nunclon Sphera ultra low attachment plates
Ordering information for Nunclon Sphera ultra low attachment flasks and dishes
For Research Use Only. Not for use in diagnostic procedures.